Image Courtesy: Batterii blog
According to the given design thinking process diagram, the design thinking process consists of below mentioned five phases. In these design thinking process steps, designers empathise, define, ideate, prototype, and test the probable solutions to a user problem.
1. Empathize
The process of design thinking starts with Empathy. This phase is the core of design thinking process.
In this phase, solution providers interact with the users of the product to understand their expectations, issues, problems, and pain points, etc. As this phase can be revisited based on the feedback from a later phase, the User's interaction with a prototype or a product is studied too.
2. Define
Equipped with the knowledge gained in the previous phase, solution providers or designers define the problem in a more formal way. This is the second phase of the design thinking process.
Teams/Individuals come up with their point of view and mention the challenges and issues that will be addressed in the provided solution. The output of this phase is a clear and well-defined problem statement, which becomes the basis for the next phase of the design thinking process.
3. Ideate
This is the third phase of the design thinking process. In this phase, the solution group might deviate from the existing norms and can really get creative to think about the problem statement from many different points of view and perceptions.
Team members can use techniques such as brainstorming, analogies, bodystorming, brainwriting, gamestorming, mind mapping, reverse thinking, storyboarding, etc. to generate ideas and possible solutions to address and solve the problem as it was defined in the previous phase.
The output of this phase is the list of possible solution candidates that might be applicable to the problem statement.
4. Prototype
Prototyping is the fourth phase of the design thinking process. In this phase, teams come up with a scaled-down version of a product, called prototype. A prototype allows users to interact with a possible product and helps in collecting user feedback before full-scale product development.
The purpose of this phase is to convert ideas into something tangible and full-scale development, which can result in accomplishing the user requirements and customer delight. In this phase, teams can come up with one or more prototypes.
5. Test
This phase is the fifth phase of the design thinking process, and solution providers present all the prototypes in front of users. Users can interact with the prototypes as real products and can give feedback to the designers and developers by highlighting the design flaws that need to be addressed by the designing teams.
The results of this phase often require the team members to revisit one of the earlier phases such as empathize, and ideation to come up with a new prototype that would finally be selected by the users. Once finalized, a prototype can then be selected for full-scale development.
Is Design Thinking a Linear Process?
As per the definition of design thinking process, the design thinking process is not a linear process.
It requires solution providers to keep iterating between phases with active feedback from users and stakeholders. The correct representation of the process would be similar to the one shown in the image below.
In the below-shown figure it is quite evident that Empathy leads to more accurate problem definition. Based on the definition of the problem, teams brainstorm and Ideate for many possible solutions.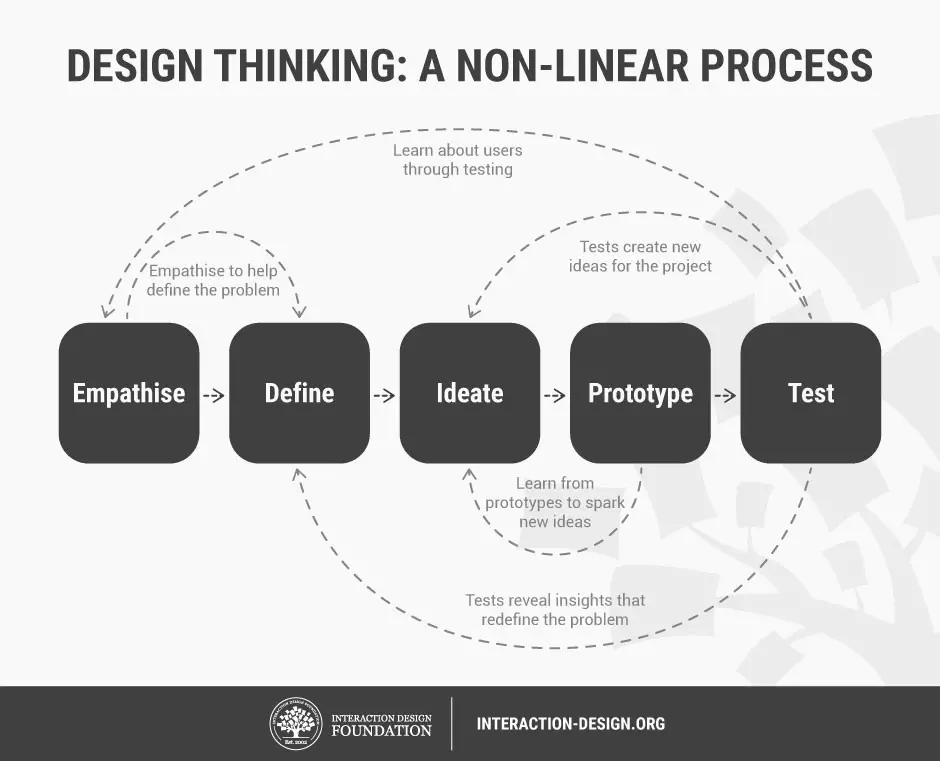 Then designers immediately come up with prototypes and seek user acceptance and feedback for making necessary changes or modifications and follow the same steps again until the best possible solution is discovered.
Testing a prototype can result in learning more about the users and hence can lead to improved problem definition and a new refined prototype.
Five obvious benefits of the Design Thinking process for Business?
Due to the nonlinear, iterative, and flexible nature of the design thinking process, It is possible to integrate design thinking into existing processes in any business. In a design led thinking process, businesses reap many benefits. Some of those benefits are given below.
1. Reduced time to Market - It is due to its emphasis on solution finding and users that teams spend lesser time in the development of a solution. Time less spent on design and development result in quality feedback in the testing phase.
2. Cost saving and a great ROI - A faster product into the market saves a lot of costs and results in a better ROI. Some teams have reported almost up to 300% ROI after implementing Design thinking to solve user problems.
3. Improves Customer retention and loyalty - Customers are involved right from the beginning, and because of great emphasis on human design thinking results in customer intimacy and customer delight because the final product is very close to the customer expectations. Due to customer involvement and happiness, design thinking results in higher improved customer retention and loyalty.
4. Fosters Innovation - An environment full of cross-functional interactions and collaboration fosters innovation and keeps employees happy as they learn more and remain creative. Innovations keep employees engaged more in their work and stay productive.
5. Can be applied company-wide - Opposed to some views, Design thinking is not limited to any one area or discipline. It can be applied company-wide within existing teams or into the life of one individual.
The above points on benefits are multiplied in effect with Design thinking is used with other prevalent processes such as Agile and Lean. Read on to know more about it below.
To learn more Download a design thinking process book and take the road of non stop innovation in your company.
Conclusion
Design thinking challenges the existing assumptions and redefines a problem in order to find solutions by keeping humans at the center of the designed solution.
Design thinking works well with other highly productive methods such as Agile and Lean to bring further value to the users and businesses. We will explain design thinking more in our upcoming posts. Arya BLOG · TECHNOLOGY
Design Thinking Process Design Thinking in Fashion